Humiliation Phonesex
These Mistresses Take No Prisoners
(Call cost 65p per minute + your phone company's access charge)
Humiliation phonesex is what you are here for bitches and XXX humiliation phonesex is what you shall get in the most extreme form possible, these mistresses take no prisoners. You are a good for nothing worthless piece of shit, barely fit to be a piece of petrified shit stuck to the bottom of my 6inch shiny stiletto heeled shoes. I am here to put you in your place in the world and clearly show you, drumming in to your skull exactly how pathetic you stupid little pea brain fuckers really are. You have come to our domination phonesex line because deep inside you know the you truth and you are beggining to see what the rest of the world can see and come to terms with the plain and simple fact that you are a useless fuck whit in every part of your being, in every part of your life.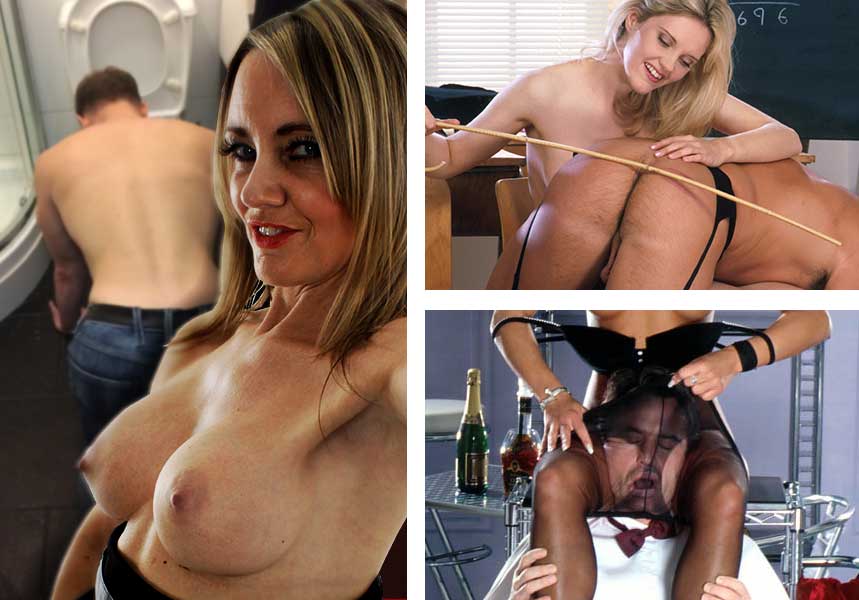 (Call cost 65p per minute + your phone company's access charge)
On this no limits phonesex line, whilst you shit bags are grasping hold of your little pricks tugging away at them, us mistresses will really teach you what it is to be humiliated, degraded and smash that teeny tiny little bit of confidence you may or may not have in to shred, you will have no choice but to listen intently whilst mistress gives you a lesson on who you are and who you now belong to. You will listen carefully to every single word your mistress has to say, you will speak when spoken to and you will serve your mistress in which every way she fucking pleases. Pathetic little losers such as yourself need to be commanded, you need a leader , a mistress to give you orders for you to follow and obey or you will crumble and fall as you dont have the brain capacity to think for yourselves, this is truely how fucking pathetic you little wankers are.
Humiliation Phonesex Mistresses
Call Me Today On
0909 466 7
666
(Call cost 65p per minute + your phone company's access charge)
Well little piggys, if you are on our 121 phonesex page then you are already fucked! arse fucked, mouth fucked just plain and simple your lifes already fucked up. Your personal life, your work life if you have one, your relationship intimate or otherwise are already in crumbling ruins, you are here because you know your a stupid fuck who need to be humiliated and punished because this isd what you know you deserve, you are the scum of this universe ready to be trained to become a domination phonesex mistesses bitch.
Let's see...
Your personal life...If your reading this and ringing our cheap chatlines looking to be degraded by one of us goddesses then you have no control of your own life, your a sheep you will never be an respected citizen you are the type of person who is invisible in this world, people pay no attention to you a they can see before you even attempt to open your mouth that you have nothing worth listening to your relationships...If you was lucky enough for any woman to have gazed upon you and given you the time of day then i am certain she was rapidly regretting that desision and wished that fist time she did set eyes on you that she had just ignored you like everyone else. If you are still somehow still wrapped up in a relationship then you know there is no way you could be sexual satisfying your partner as youve probably got a tiny little excuse of a dick which would appear to look more like an over-sized clitoris rather than a cock and the chances that you partner is cheating on you, getting big, fast throbbing dick, bent over and fucked on all fours at every chance she gets is a highly likely scenario.
Shocking Humiliation Phonesex Chat
(Call cost 65p per minute + your phone company's access charge)
Work life...If you even have an excuse of a career then more than likely you are soon to be fired, you cant do the job properly, every person in your place of work by passes you and knows your soon to be out on your ear because your fucking useless and just havent got a clue about the job or life in general.
So to put in bluntly your ringing this 121 phonesex line because your a useless, worthless, squirming piece of shit and you need to have this fact burnt in to your little mind repeatedly again and again and again. Ring our extreme humiliation phonesex mistresses for the most hardcore degredation youve ever experienced and will never be able to block out or forget!
Some of the activities I enjoy:
A Levels (at discretion)
Anal Play
BDSM
BDSM (giving)
Being Filmed
Cross Dressing
Dinner Dates
Disabled Clients
Face Sitting
Fetish
Fisting (giving)
French Kissing (discretion)
Hand Relief
Lapdancing
Massage
Modeling
Prostate Massage
Rimming
Rimming (Giving)
Role Play & Fantasy
Smoking (Fetish)
Striptease
Tie & Tease
Toys
Uniforms
Watersports (Giving)